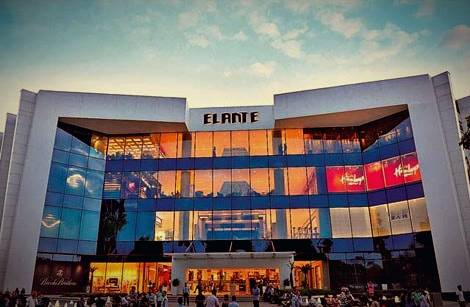 This generation loves shopping either online or in shopping malls. Shopping Mall is a center for almost everything you want to buy. It is based on the western tradition where a person goes to a store where one can buy everything under a single roof.
1. Elante Mall
Elante Mall is the one of the most popular shopping malls in Chandigarh which is spread around 11.5 thousand sq ft. It is the second largest shopping mall in Northern India and seventh largest shopping mall in India. It consists of four floors plus one basement level. Elante Mall covers a wide range of national and international brands. It is the best place to buy almost anything in Chandigarh.
Address: 178-178A, Purv Marg, Industrial Area Phase I, Chandigarh, 160002
Contact: +91 172 500 5000
2. DLF City center
DLF City Centre Mall is built on 2 lakh square feet at the junction point of Panchkula, Manimajra & Chandigarh overlooking the beautiful Shivalik Range. The mall welcomes visitors to Tricity-Chandigarh, Panchkula and Mohali. DLF City Centre Mall caters to the taste of discerning shoppers across a broad age spectrum and offers a unique blend of international and indigenous brands, a mix of handcrafted Indian designer wear, Fashion Accessories and yet also the latest international Fashion trends for Men, Women & Kids.
Address: Plot no: 1 & 2, IT Park Rd, Kishangarh, Chandigarh, 161101
Contact: 80544 00444
3. Cosmo Mall
Cosmo Mall is a shopping, entertainment, fun and leisure extravaganza with MNC brands, multiplex, food court and gaming zone. It is a fully loaded shopping, entertainment and leisure experience in Zirakpur. Cosmo mall has many brand stores like adidas, Puma, Nike, Skechers.
Address: Cosmo Mall, Ambala Chandigarh Expressway, 140603 Zirakpur
Contact: +91-98-1591-8802
4. Shopping Plaza Sector 17
Shopping Plaza is located in Sector 17 Chandigarh. It is the oldest market and the most happening place in the city. It is also famous since many offices have their head offices in sector 17 which makes it convenient for them to shop. You can find almost every item ranging from clothing, footwear, books, jewellery, cosmetics, handloom, electronics, designer juttis, fast food points, chemists and many more. This Sector 17 shopping plaza has a Cinema Hall and a musical fountain that increases the charm of the place and attracts more and more people of all ages almost daily.
Timings: 11:00AM to 10:00PM, open all days
5. Rehri Market, Sector 15
Almost situated in the centre of the city, Rehri Market in Sector 15 is the major market or shopping place of each category of the people. You can see people of all ages and also from lower, middle and high class categories. In this market we can choose items starting from clothing, shoes, handloom, daily use items. It has many shops and some temporary mobile shopkeepers are also seen selling their products. You can find good quality jackets, footwear, bags, gifts, bed-sheets, curtains etc. It is quite impossible that any citizen would not have visited this market at any point. The beauty of the place is that even a poor can also afford to buy their products of need.
Timings: 10:30 AM to 10:00PM, open all days
So, if you are planning to or wish to go out to shop, you can consider any of the above places which offer you a wide range of products.