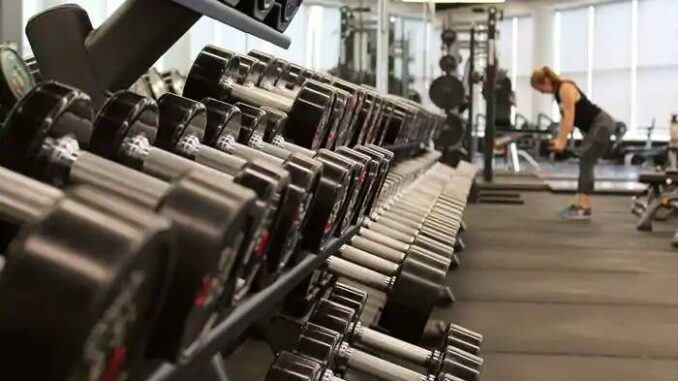 As the societal change, there has been great craze for the looks, shape and size of your body. People want to keep themselves as attractive as any film star or a model. The said change was brought around late nineties when Bollywood stars like Sanjay Dutt and Salman Khan came into the spree of modelling and fashion followed by many other models and film stars. The same was with female actors as well. And to become physically slimmer one need expert guidance and the infrastructure which is provided only at the specified places which is commonly known as Gym.
Let's have a look at the top such places in the tri city Chandigarh.
Ozi Gym & Spa
With regards to the facilities offered at this premium fitness centre cum gym in Chandigarh, the membership fee is mere peanuts. Offering the best services at the most affordable price, Ozi's aim is to see fitter and healthier Tricity. Ozi's premium gym (at Mohali) cover 25, 000 sq feet is one among the popular, the lavish gym has Cybex (USA) machines which is that the no 1 brand in the world. The services including gym facilities, fitness studio classes, cardio, spa, cross fit and other such activities which come loaded with indoor swimming bath and different training programmes.
Membership Fee: 3 months – Rs 7000 and Rs 13, 000 annually
Address: SCO 134-135-136, Madhya Marg, Sector 8C, Chandigarh
Phone number: 0172 504 2210
Website: http://www.ozigym.com
The Code Fitness
Offering an excellent infrastructure for the fitness freaks the Code Fitness gym is another premium Gym at Chandigarh that promises best fitness services to people of Chandigarh. The Gym houses fitness equipment to satisfy the professional demands of a fitness environment.
Membership Fee: 3 months – Rs 13, 000 and Rs 24, 000 annually.
Address: SCO 45-48, Sector 8C, Madhya Marg, Chandigarh
Phone number: 0172 500 5333
Website: http://www.thecodefitness.com
Body Zone Fitness & Spa Pvt. Ltd
Spread over a reasonably good area in the heart of Chandigarh i.e., sector 17, the Body Zone offers an environment for imbibing the workout routine in individuals. This Gym in Chandigarh houses a number of the modern machines for correct workout and stamina building. Spa, sauna and steam services are included within the membership fee and its trainers give the expert and personalised guidance to each and every member for better results.
Membership Fee: 3 months – Rs 21, 000 (Male), Rs 19, 000 (Female) and Rs 48, 000 annually (Male), Rs 38, 000 annually (Female). These are prices after specific discount.
Body Zone Fitness & Spa Pvt. Ltd.
Address: SCO 180-187, Second Floor C, Madhya Marg, Sector 9-c
Phone number: 0172 507 7770
Website: http://www.bodyzonegym.in
Suprama Gym, Chandigarh
One of the oldest gym in Chandigarh, Suprama (by Ozi) Gym offers the professional guidance and fitness facilities at unparalleled fees with regards to the services it offers. With a team of trained Gym trainers within the arena, the Gym banks upon its fitness expertise of quite 18 years. Aerobic classes are another feature of the gym which all the members can participate in.
Membership Fee: 3 months – Rs 4000 and 12, 500 annually.
Address: SCO – 3013- 14, 2nd Floor, Sector 22D, Chandigarh
Phone number: 0172 461 1444
Website: http://www.supramafitness.com
Burn Gym and Spa
Burn Gym's mantra may be a level above and this gym in Chandigarh trains its members to follow no limits in training. Fuelled to measure a healthy and fitter life BURN follows pushing fitness past the walls of the gym.
Membership Fee: 3 months – Rs 11, 000 and Rs 21, 000 annually
Address: SCO 62 63, ground floor, Sector 8C, Sector 8
Phone number: 0172 507 6490
Website: http://www.burngym.com
Bodyscapes the Fitness Temple
The Bodyscapes Fitness temple believes in taking everything personally when it involves fitness and health. It understands the very fact that every individual is different and features a different stamina. This is one among the appropriate places for amateurs also as experienced athletes who anticipate to newer challenges and who want to place to check their physical strength! The environment at this Chandigarh gym is friendly, classes are tailored, trainers are supportive and each individual is pushed towards reaching their personal fitness goals accordance with their health and vigor.
Address: SCO 100-101, Sector 34-A
Phone number: 0172- 2645820, 8729004000
Website: http://bodyscapesgym.com
The scenario today is if you have good physique, you are in demand. It is kind of mandatory these days. Not only have film stars rather sport persons also started caring for their body. Apart from fitness, the thing which matters is shape. With the growing advancement in technology modern day fitness has also come to the stage where everyone need to get used to the latest fitness machines. For the same one need to approach and visit the above gyms.