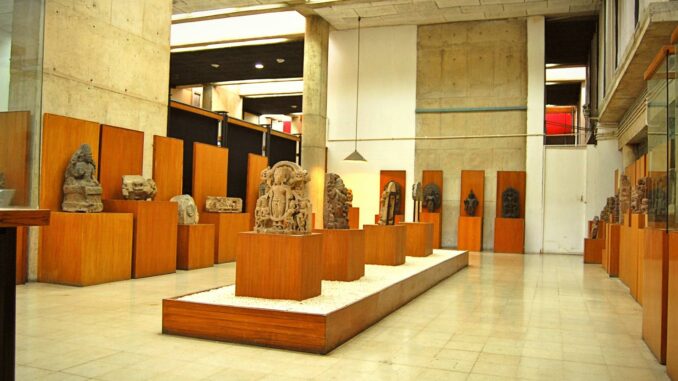 Museum is a piece of art from our history collected for our future generations. The best way to dive into our past and to know about it is to visit a museum. If you are a history enthusiast and eager to know about the history of India and specifically about Chandigarh City then you should definitely pay a visit to these museums:
1. Government Museum and Art Gallery
Government Museum and Art Gallery is a museum of Gandharan sculptures and Pahadi and Rajasthani miniature paintings which was opened on 16 May 1968. Government Museum and Art Gallery was designed by French architect Le Corbusier along with Shiv Dutt Sharma, Manmohan Nath Sharma, and Pierre Jeanneret who were his associate architects. This Museum includes metal sculptures, stone sculptures, Numismatics, textiles, decorative art, pottery, Manuscripts, Modern and Indian contemporary art.
Address: #502 sector, 10C, Chandigarh, 160011
Contact: 0172 274 2010
2. International Dolls Museum
The International Dolls Museum showcases a large variety of collections of puppets and dolls from all around the world from 25 different countries like Denmark, Netherlands, Germany, Russia and Spain. There are around 250 dolls dressed in traditional outfits. There are dolls portraying characters from Indian mythology and other famous stories like The Ramayana and fairy tales like snow white. It is a wonderful spot to pay a visit with your children to show them this form of art.
Address: Bal Bhawan, Udyog Path, Sector 23B, Chandigarh, 160023
Contact: 0172 270 7555
3. Chandigarh Architecture Museum
Chandigarh Architecture Museum is a museum of sketches, designs and archives of the architectural world. It was set up in 1997 based on the designs of French architect Le Corbusier by architect S.D Sharma. This museum is a very informative place for architecture enthusiasts and students. This museum includes some designs and documents related to the designs of the Chandigarh city itself.
Address: Museum and Art Gallery, Sector 10, Chandigarh, 160011
Contact: 0172 274 5510
4. Le Corbusier Centre
This museum was once the workplace of French architect Le Corbusier where he used to conceptualize the city's designs. Le Corbusier Centre displays the work and research of Le Corbusier which are being administered by Society for Tourism and Entertainment Promotions (STEPS). It was set up by Chandigarh Administration in 2008.
Address: Sector 19B Old Architect Building, Madhya Marg, Chandigarh, 160019
Contact: 0172 277 7077
5. Natural History Museum
Natural History Museum is a place of models and portraits of natural history which includes fossils, dinosaur's models and early human sculptures and other geological models. The models in this museum portrays the story of human species from thousands of years from present day. It is one of the only museums in the whole Asia which depicts the evolution of life on the planet Earth. It was inaugurated on August 13, 1973 with improvements done from time to time. It was named as a Natural History Museum in the year 2001.
Address: Sector 10C Madhya Marg, Matka Chowk, Chandigarh, 160011
Contact: 0172 274 0261
Museums are very informative and they always provide information about our past. With visual representation by sculptures, models, paintings and portraits one could easily know about the history of our evolution.