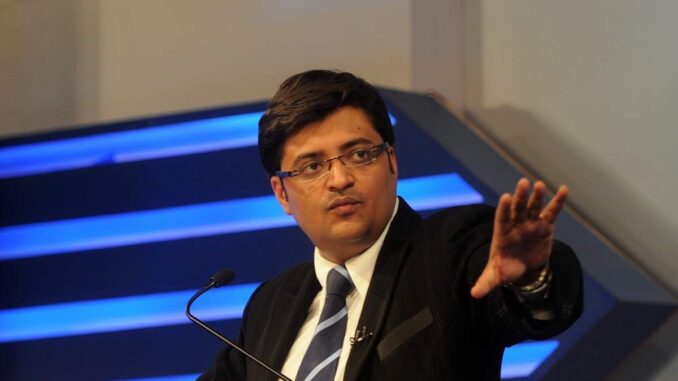 Mumbai : Senior journalist Arnab Goswami has been arrested in a two-year-old suicide case in which investigations were reopened recently, the Mumbai police said. Several ministers have condemned the arrest, calling it a reminder of the Emergency.
" Congress and its allies have shamed democracy once again. Blatant misuse of state power against Republic TV and Arnab Goswami is an attack on individual freedom and the 4th pillar of democracy. It reminds us of the Emergency. This attack on free press must be and WILL BE OPPOSED," tweeted Home Minister Amit Shah as reports emerged of Arnab Goswami's arrest.
"We condemn the attack on press freedom in Maharashtra. This is not the way to treat the Press. This reminds us of the emergency days when the press was treated like this," posted Information and Broadcasting Minister Prakash Javadekar.
Meanwhile, Arnab Goswami has alleged that the police officials manhandled him at his Mumbai residence before he was pushed inside the van.
News agency ANI quoted him as saying that Mumbai Police "physically assaulted his mother-in-law and father-in-law, son and wife".
The Republic Editor-in-Chief has been arrested for allegedly abetting the suicide of a 53-year-old interior designer, Anvay Naik, and his mother, in 2018. The designer had reportedly named Arnab Goswami in a suicide note and had accused Republic TV of not paying him his dues.
"We can't forget 2018. We want to thank Maharashtra Police for standing by a daughter of Maharashtra," Akshata Naik, Mr Naik's wife, told reporters.
"There were three names in the suicide note. My father spent money, energy and sweat blood on the project. Arnab Goswami ensured my father did not get his dues. My dad mentioned ₹ 83 lakhs as dues in his suicide note," she said.
Interestingly, the arrest comes at a time when Arnab Goswami's Republic TV has been accused of tampering with the TRPs. The editor had accused the police of harassing his colleagues and pursuing a vendetta over his channel's criticism of Mumbai Police's handling of the Sushant Singh Rajput case.