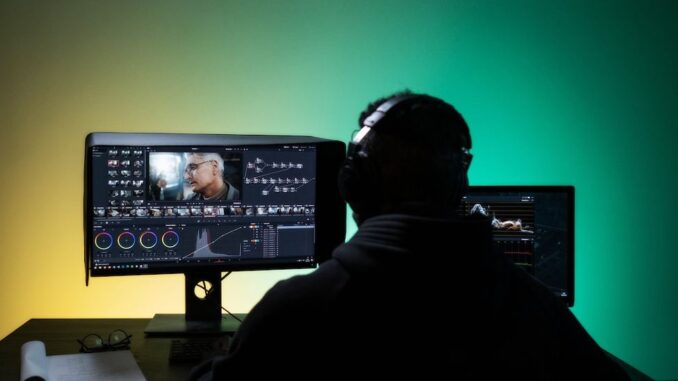 A decade ago, editing videos was a fairly complex task that required many skills to complete. Combining frames, adding special effects, sound staging and other processes took a lot of time and effort. After the advent of digital cameras, the system worked just as slowly. Only in recent years, it became much easier to edit video – now anyone can use special tools and bring any idea to life.
You can merge video online on your PC or mobile phone. A large number of platforms allow you to quickly change videos, combine parts of a video, and work with sound. Choose the right service and enjoy innovation – each video will turn into a real masterpiece! 
PC platforms
If you prefer to do all your work on a desktop computer running Windows, try the stock photo and video app. The video editor has a clear interface, working with files isn't difficult. With its help you can:
add music;
trim or merge parts of the video;
add a photo or signature and so on.
Shotcut is another video editor that handles different tasks perfectly. It supports many photo and video formats: SVG, WebP, BMP, GIF.
For MacOS the iMovie program is suitable – this is a standard software, work with which begins with importing the desired video. Payment for additional features isn't required. It supports 4k and HS. You can stabilize the video, add visual effects and transitions, change the playback speed.
An additional tool will be QuickTime Player. It's a player designed not only for playback, but also for editing. You can trim the desired part of the video or merge several video fragments.
Online services
If you need to work with video, you can start on the Adobe Spark platform. This is a tool designed to edit, add graphic elements, change or add audio tracks. It doesn't require a download and works great on both PC and mobile phones.
An alternative option is Clideo, the platform is suitable for MacOS and Windows. You can upload videos directly to the app or import from Dropbox. The final stage is export, the format should be chosen depending on personal wishes.
If your task is not only to trim the desired part of the movie, but also to add subtitles, choose Veed. The tool works online, has a user-friendly interface, and offers prompt support for users who encounter problems during editing.
A good option for users who don't want to install new software is InVideo. The software works in the cloud, is constantly updated and is available without payment. Over 5000 video templates, interesting effects and video processing guides are great incentives to get started.
Applications for mobile
Video editing on a mobile phone is a new feature that every gadget owner can use. Simple tools do a great job of updating content and combining videos. The best software is designed for download and is available in PlayMarket or AppStore. The most popular products are:
Video Editor (for Android). You need to add videos that require editing, and perform the necessary operations – trimming or duplicating content.
iMovie (for iPhone). This is a standard software that has interesting functionality – setting focus points, changing sharpness, adding logos and so on.
VN (for any OS). Most often used to create videos for social networks. There are interesting templates, various effects, as well as the ability to work on a single or multi-level scale.
VidTrim (for any OS). You can add music, combine or trim videos.
Choose the right program and start working with the video – you can quickly understand the interface and create an interesting video.
Recommendations for beginners
If you want to create a high-quality video, pay attention to the source material. Do not reduce the size of the video before processing – the finished video will be of poor quality.
The next step is to determine the platform for which the video is mounted. If you are going to upload it to YouTube, it's better to create a horizontal video. For IG Stories, a vertical movie is more suitable. Use one orientation to make sure your video can be viewed on multiple platforms.
If your videos are shot in different lighting conditions, try to color correct throughout the video. Check the white balance, and also watch the video after you're done – a movie in the same color temperature will look much more interesting.
Videos on social media often play without sound. So try to add subtitles so that users don't need to add audio to understand what's going on. A clip that has interesting transitions will look more impressive. It isn't necessary to make them complex and distracting – simple effects will be a great addition to any video.
Video editing isn't difficult even for beginners who have not encountered similar tasks before. It is enough to show a little diligence to understand the interface and start creating beautiful videos. Don't be afraid to experiment, then positive feedback about your clips is guaranteed!