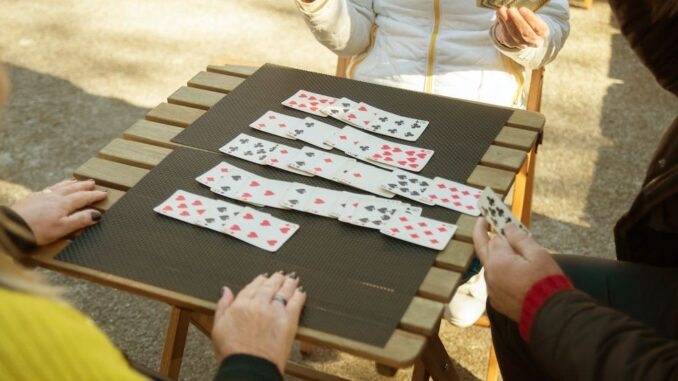 Let's start off by sharing a little fun fact. Remember back in the day when computers were first launched for the general public and they came with a few preloaded games including Solitaire? Well, that beloved game was initially designed to allow new users to get familiar with using the mouse to click, drag, and drop items on their screen.
That timelessly fun game has now become a much more popular game since the introduction of smartphones, as people don't have to sit in one place in front of their computer and can just play wherever and whenever they want. Especially Solitaire Cube, which is the classical favorite Solitaire game with a fun and rewarding twist.
We encourage you to play this timeless game for fun and to compete in cash tournaments. We have put together a collection of helpful advice and tactics to help you prepare ahead of time and get an advantage over other players in big cash events.
What is Solitaire Cube?
You may play standard Solitaire with the Solitaire Cube mobile application. The pace is quicker on the app, though, and you'll be playing against another player.
If you like playing cards, you'll benefit from not having to drive to your selected destination or deal with the cards yourself. Instead, to get started, you only download the Solitaire Cube app to your phone, and the fun begins.
Solitaire Cube: Is It Legitimate?
Yes, Skillz, a respected eSports platform, powers the Solitaire Cube app. If you want to play for real money, Skillz, which has an A+ rating with the Better Business Bureau, will handle your rewards and any potential cash awards, so you don't need to worry about being scammed out of your money. 
Every day, millions of players use Skillz, a recognized brand, to fuel countless hours of their gaming fun. More than 20,000 games are powered by the safe and secure Skillz platform. Apart from that, each player's ranking on the Skillz platform changes as they accumulate points and tokens through gameplay.
You are matched with other gamers on the platform that have matching skill levels. The tournament will be fair for all participants in this way.
The Skillz platform emphasizes fair and enjoyable gameplay. Additionally, it features 24/7 customer assistance and anti-cheat technologies.
Solitaire Cube: How Does It Work?
After actually playing the game yourself, you'll see that Solitaire Cube is virtually the same game as the classic Solitaire if you've played it before. Essentially, the objective is that you have to make rows of ascending cards.
Nevertheless, there are a few considerable differences. You will initially be playing against another player. The software will match you with a player from anywhere in the globe with a comparable skill level.
Second, the mobile app's software ramps up the pace by enabling you to construct ascending rows of cards using a wide range of suits. Both players maintain a steady speed thanks to a five-minute timer.
However, you always have the option to exit the game early and maybe earn extra points and even cash rewards. This is, again, one of the best mobile apps that pay instantly to cash app.
Is there more than one game mode?
Users of Solitaire Cube have two play levels to choose from.
Practice League
You may play free games through the practice league if you don't want to spend any money on the game. In the practice league, you can still win Z Coins and Tickets instead of cash rewards.
You can purchase virtual Z Coins to participate in additional games. Not only that but tickets can also be exchanged for real rewards, such as merchandise and cars. It goes without saying that it would take a very long time to accumulate enough Tickets to redeem a car. But hey, if you set a goal and work towards it, anything is possible.
Pro League
In the Pro League, the stakes are a little higher. For you to be able to participate in this league, you must first make a deposit. But once you're in, you can participate in money tournaments. The Pro League gives you a chance to win money based on your performance in the game, so start polishing your skills right away and increase your earnings!
Solitaire Cube: How Much Does It Cost?
Playing in the practice league is completely free. However, you'll need to start out with some of your own money if you want the opportunity to win money.
The Pro League requires a $10 initial investment as a minimum requirement to enter. Even so, the price for each game's admission varies. You might simply need to invest $1 to play a certain game.
When placing your minimal deposit, the app supports payments through credit cards, PayPal, and Apple Pay.
Tips and Strategies for New Players
Before participating in multiplayer tournaments, play enough practice games.
If you are a newcomer and played against opponents for real money, you probably won't have a spectacular game. With the exception of the opportunity to win money, the game's core features are the same in the free edition, so we urge you to practice plenty on it beforehand. Additionally, you'll learn key concepts like "card protection" and become familiar with the same principles.
Go after bigger stacks first
We suggest selecting columns with greater stacks below their face cards while aiming for hidden cards. You have a higher chance of discovering appropriate cards you can use to form piles if you clear these hidden card columns as soon as possible.
It is also appropriate to start by transferring every card in the stockpile. After the plays are made, turn your focus to handling those deck cards.
Keep a King nearby while emptying a display pile
It's quite common for beginner players to make the mistake of removing a stack in order to get rid of all the cards from a particular slot.
But since only kings are supposed to occupy certain slots, the space will remain empty if you do not already have a King waiting to be placed there.
Unless you are lucky enough to draw a King from your remaining cards, this is not a good idea because it closes off an entire play column.
Conclusion
Download Solitaire Cube on your mobile device right now and start playing an all-time favorite! Make sure you keep in mind the tips mentioned and gain a cheeky advantage over other players. Have fun and good luck!