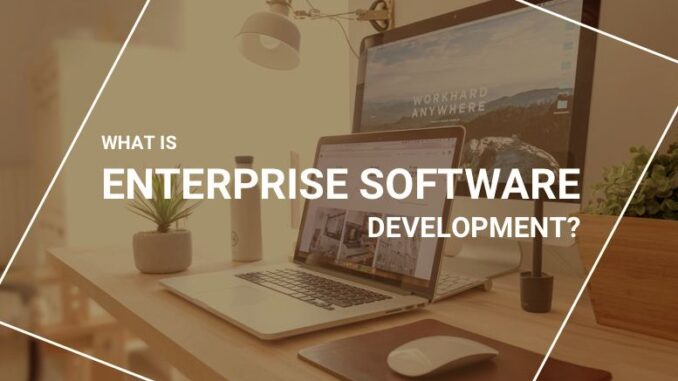 Enterprise software is programs that are used in companies to digitally manage, monitor and optimize their business processes.
Worth knowing: Enterprise software cannot always be clearly separated from software for private use, as many programs are used equally in the private and commercial sector.
What types of enterprise software are there?
Software for operational applications can be divided into different categories. However, due to the versatile functions of some programs, a clear assignment is not always possible.
Goods or Materials management systems are used for warehouse management, procurement, inventory, purchasing and/or consumption-driven scheduling. In manufacturing industries, the use of merchandise management systems for production control and planning is common.
Human resources management systems also belong to the category of business software. This includes programs for personnel management, time recording and/or payroll. HR software is also a so-called personnel management system. It can be used for personnel planning and development, as well as for the processing of travel expenses.
Financial and operating software or accounting software are programs that no entrepreneur wants to do without. The programs in this category were, so to speak, the first in the field of enterprise software.
Worth knowing: Financial and business management software can be used in various areas and is helpful in completing various tasks, such as accounting, income statement, accounting, etc.
Sales management programs are important for the marketing and sales department. For example, sales can use distribution software to create new orders, check the creditworthiness of customers or check whether the ordered goods are in stock, etc. CRM software is also an advantage for the sales economy. This business software is specifically designed to simplify the maintenance of customer relationships. This software can be used to manage sales processes, opportunity control or customer contacts. It can also be a useful tool in the areas of production planning, production control, logistics, supply chain management and enterprise resource planning.
Worth knowing: The listed programs are only a small excerpt from the field of enterprise software. There is much more.
Buy company software
If a new business software is to be purchased, a software evaluation should always take place at the beginning so that the exact needs of the company can be determined. In addition, it still needs to be clarified what kind of business software it should be.
You can order one on https://evnedev.com/industry/enterprise-software-development-services/. 
Standard software
If a company buys standard software, it is usually available at a discounted price. As a rule, the program is ready for use quite quickly. However, standard software can usually only be adapted to a limited extent. In addition, it often does not offer all the functions that a company needs. Standard software can be useful if young companies in particular have not yet built up their own structures and use the processes of the standard software as a template for their own processes.
Individual software
Individual software is created individually for the customer. The software usually meets 100% of the customer's needs. However, only on condition that a software evaluation process has been carried out beforehand.
Worth knowing: If a company relies on a so-called best-of-breed strategy, several software solutions are used in the various business areas.
What problems can the best-of-breed strategy bring?
If a company uses different software solutions, each department has the functions it needs, but the best-of-breed strategy can lead to a number of problems. Thus, the cost of maintaining the individual systems is relatively high. Furthermore, expertise is required to guarantee competent support for users. In addition, some servers require a high administrative effort, which of course incurs costs. However, the main problem is that the best-of-breed strategy does not always ensure that the different systems are compatible with each other – keyword interface problem.