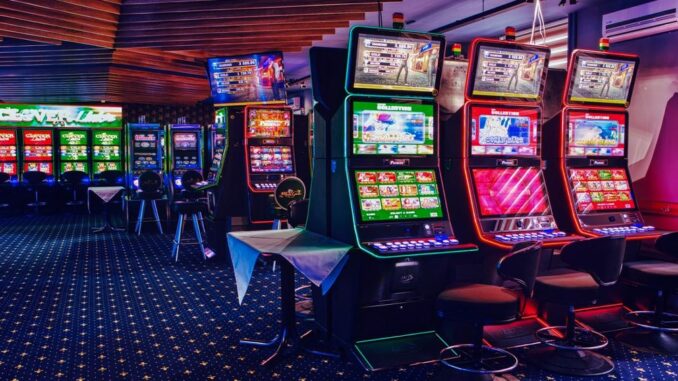 Slot games have always been the most beloved gambling games for both offline and online players. A slot game is easy enough to learn even if you're a novice in the world of gambling and it can provide quite a lot of payouts if you're lucky.
It's essential that you familiarize yourself with the slot machines and how they work before getting into playing them. There are a lot of different types of slots online and you should start by understanding the difference between them.
Single Coin Slot Machines
Out of all the types of slot machines on our list, this one is the hardest to find, but it has a long history and it has in a way shaped the game over the years. The name comes from the fact that you need to put in a single coin in order to use the machine. That's how all of them used to work years ago.
Modern slot machines are more profitable for the casino and more complex to use and to get paid from. However, there's something fun and retro about these machines and you should try one if you can find it.
Multiplier Slot Machines
These machines can accept more than one coin at a time. The payment you can get is therefore based on the number of coins that you put in. It's a multiplier machine because you can multiply the amount you get by adding more coins one after another as you progress through the game.
Casinos prefer this type of machine because it encourages the players to make more bets and spend more. The players like them because the payouts are bigger if you get lucky. Most machines in use these days operate in this way.
Buy Your Pay Machines
These machines may sound complicated but they actually work in a rather simple way. The machines accept between one and five coins per spin. The number of winning combinations depends on how much the player has spent. More combinations will be added as you add more coins.
These machines aren't as popular as they once were because the players changed how the game was used by always betting the largest possible amount. This means that they are no different than a single coin game, but with more combinations, if they are used in this fashion.
Multiple Payline Slot Machines
Most slot machines have one pay line. It's where the symbols need to line up in order for you to get paid. Multiple pay line slot machines work differently since they have more of these pay lines and therefore more action for the players.
In some casinos, you can have as many as 50 pay lines on a single machine. The chances of winning aren't higher on these machines, as some may wrongly think. In fact, each of the pay lines has its own line of payment so it's more like playing a lot of machines at once.
Wild Play Slot Machines
Wild play slot machines are more exciting to play than the others on our list because you can't really know what's going to happen. They can multiply the amount you can win without any control of your own and that's why every game is an adventure of sorts.
These slots usually come with bonus rounds that can also multiply the amount you can earn and by a lot as well. A payout is doubled when you hit a particular symbol that's designated as the wild symbol. The payments increase if you hit more than one.
Progressive Jackpot Slot Machines
Progressive slot machines work the same as other slot machines on our list at least from the standpoint of how they are used by the player. However, there's one difference and it's that the slot machines you're using are a part of a bigger network of interconnected slot machines.
This means that the potential jackpot of all the machines is put together and you can win a jackpot that's progressively increasing as other players use their machines within the same network. The network can be local or it can include machines across the country if they use the same pool of deposits.
Reel Slot Machines
Reel slot machines consist of three to five reels and each of them has 20 to 24 stops. Some online versions of the machine can have more reels than that since there's no physical limitation as to how big the machine can be.
Sometimes these machines used to have a lever that you pool when you want to use them. This is still the case in some casinos since it provides a great retro look and feel. There's no such lever when using online machines, however.
Which One to Choose?
There's no easy answer as to which machine type to choose. It's partly a matter of preference since it depends only on what kind of machine you like and you're used to. The main two factors to take into account are how much the machine pays out and what are the risks involved.
The main thing to keep an eye on is to find a balance between the risk and the return to the player that a slot machine will have in the long run. It's not always about finding the machine that pays out the most nor the one that's the least risky.