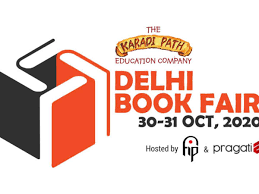 New Delhi : Delhi Book Fair 2020 is going to be organized by the Federation of Indian Publishers, sponsored by Karadi Path Learning and hosted by PragatiE on 30th & 31st October 2020. While exhibitions all around the world are closing or getting postponed due to the COVID-19 pandemic, the federation has decided to roll out this year's book fair virtually. The decision to go digital for this literary event also coincides with the 'Digital India' initiative by the Government of India.
The event will be co-hosted by PragatiE, an innovative and tech-oriented platform that enables the hosting of small to large scale events virtually/digitally. CAPEXIL (Ministry of Commerce, Govt of India) is also the co-organizer of the literary fest.
This year, the exhibitors will be able to showcase their products to a global audience, conduct knowledge-sharing webinars and book readings, and interact directly with their visitors through live chat.
The virtual Delhi Book Fair eliminates any geographical and travel barriers for both the exhibitors and the visitors and hence will be hosted on a global scale. Keeping in line with this vision, the Federation of Indian Publishers has invited international entities like Singapore Book Fair, Sharjah International Book Fair, Frankfurt Buchmesse, Nigeria International Book Fair etc. to be a part of this event.
Delhi Book Fair 2020 will be a grand affair. It is expected that 100+ exhibitors, 5000+ titles, and 20+ webinars to be included this year. A dedicated e-Commerce marketplace for featured books and titles will showcase exhibitor titles and allow visitors to buy any book with just a click.