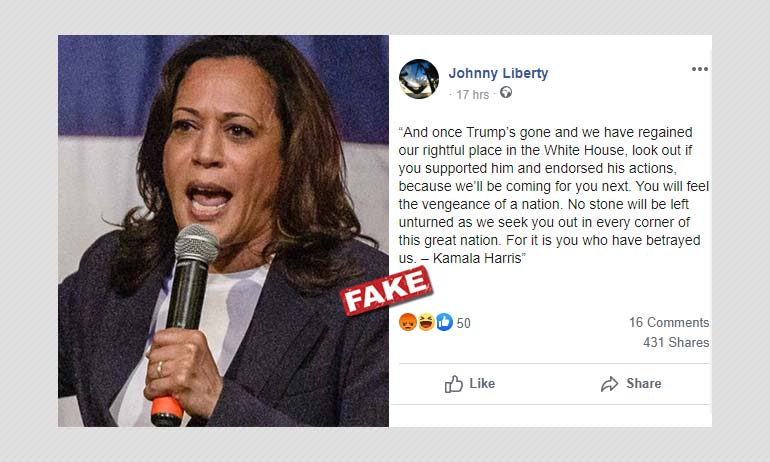 Washington : Soon after Kamala Harris was named by Joe Biden as his choice for the vice president post, a social media post went viral quoting the California Senator to punish all those who supported Donald Trump. The post has been massively shared on social media which created a sentiment against Donald Trump virtually.
"And once Trump's gone and we have regained our rightful place in the White House, look out if you supported him and endorsed his actions, because we'll be coming for you next," reads a quote attributed to Harris in Facebook posts shared on August 11, 2020.
There are several versions on the quote with different people claiming different time when it was made.
The same quote had already made rounds on social media in August 2019, but was not real then and is not real in 2020.
On doing a detailed research, News Heads team found that the quote was posted by a website which deals in fictional stories (mostly fake version). The quote was invented for an article published on August 7, 2019 on the satirical news website, bustatroll.org.
The fictional piece claimed: "While giving a speech on the effectiveness of zero punishment prosecutions, she (Harris) veered off script to talk about impeaching our president and describe in detail one 'crime' she would not hesitate to punish."
"Everything on this website is fiction," a disclaimer warns on the website's "About Us" section.
Additionally, there is no official record of Kamala Harris making any such comment.
After Biden announced Harris as his running mate on August 11, 2020, making her the first black and Asian-American vice-presidential candidate, AFP Fact Check also found posts falsely suggesting that the California senator could not be president because her parents were born outside the US.